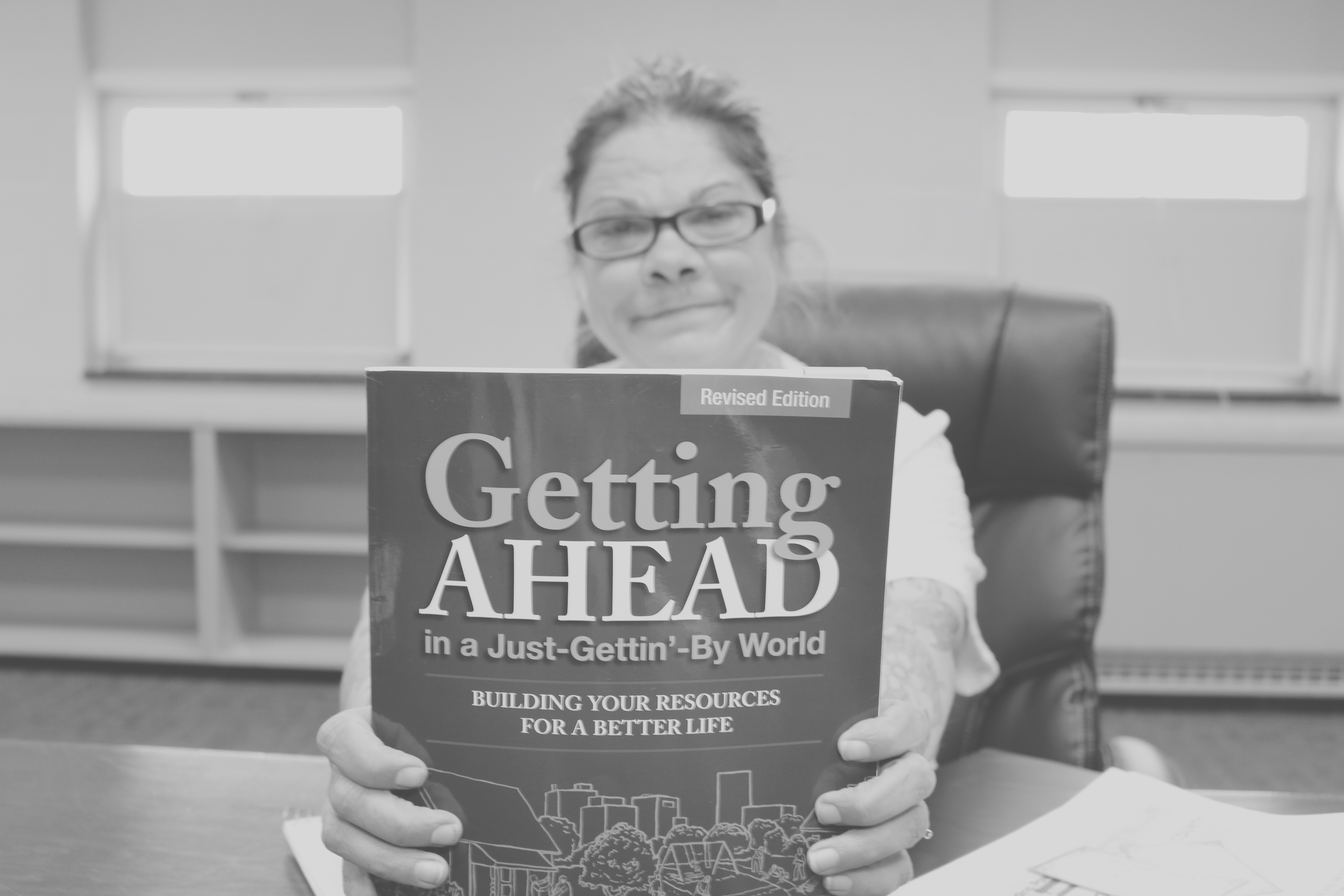 27 Mar

Building Future Stories

We've been telling you some stories from individuals in our community. This month, we want to focus on one of the workshops we offer, "Getting Ahead in a Just-Gettin'-By World." Getting Ahead, created by the aha! Process, is 16-week workshop that has individuals investigate poverty as it relates to their lives. Participants earn a $25 gas card and 30 Factory Bucks for each class. Through the years, over 100 individuals have graduated from the Getting Ahead workshop facilitated by The Factory Ministries and its staff.

In Getting Ahead, the participant is in the driver's seat. Participants are told, "You are a problem solver in your own life and in our community!" They are not assessed or evaluated by someone else, but are empowered to evaluate their own lives, assess the resources they need to develop, and set goals for the future story they want to create.

Participants learn that poverty is more than the choices individuals make. They investigate the causes of poverty in their own life, examine the hidden rules of class, learn the importance of language, and create a personal and community plan to work towards.
Phillip E. DeVol, author of Getting Ahead, explains it this way, "Just as who we are today was decided by what we did yesterday, who we'll be tomorrow is decided by what we do today. Whether we know it or not, we're all creating our future stories right now. Getting Ahead is one tool you can use to create your future story."
One Getting Ahead graduate said, "What surprised me the most was how many choices I made in my life that kept me poverty-minded." Another participant said that her support system grew exponentially through the class. She achieved the physical resource goal and the intellectual resource goal she set for herself at the end of the class by losing 133 pounds and earning her GED. She says, " The Getting Ahead Workshop changed my life… I met people that I became great friends with. It has opened doors to helping others and made me become a stronger person."  When asked what surprised her about the class, she responded,
I was surprised to find out that being in poverty wasn't only about money. You can be in poverty in many ways. Lack of any kind of resource. I ended up getting healthier and helping people and following my dreams with my education. I found an awesome church and found out that by taking the class, I earned friends to walk with me in my life, in the good and bad. I was shown that my journey matters to people who don't have to care but do. All I know is for me that little bit of time out of each week gave me something in my life I've never been prouder to be a part of."
This Getting Ahead Graduate has spoken at several of our events and just last week helped with a transportation need for another participant meeting with a case worker.  The current class has 5 participants and meets Tuesdays at the Together Community Center.
Thank you for investing in the stories of our community. In April, we won't mail you a Stories Newsletter because we will be telling the "Stories of our Community" at our Spring Banquet on April 18th! Please join us on April 18th at 6:30pm at Paradise Elementary School for our annual Spring Banquet. Click here to register or call Deb at (717) 687-9594 ext. 21200. Can't wait to see you on the 18th!