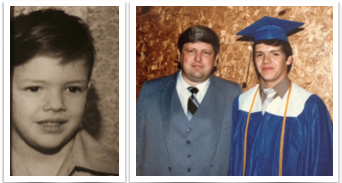 29 Jun

Chuck's Story: Why Everyone's Journey Matters
"My Story" by Chuck Holt
Middle school years can be tough for anyone.  For me they were especially difficult.  In my 7th grade year, my mother left my father, and my sister and I moved with her several states away from home.  Then in my 8th grade year, as my single mother struggled to provide for my sister and me, I found myself in transition once again.  My math teacher at the time took a vested interest in me, taking me into his home and becoming my new dad.  Life eventually brought me to Lancaster County where I now call home.  Growing up in poverty has left its mark on me and created a fear of abandonment, dysfunction in relationships, and uncertainty about my future story.
Today, I am about to embark on another journey.  In just a few weeks, I will turn 50 years old.  Because of God's love shown to me through my adopted Dad, the hyper, dysfunctional, scared little teenage boy has made it.  I made it through high school and college. I got married, raised 5 adopted children, took in another 19 foster kids, and now am the proud Pop Pop of two wonderful grandchildren. Because of my story, I have committed to a career of helping those who are under-resourced and vulnerable.
While my past has marked me in significant ways, it has not defined me.  I have been fortunate that God has put the right people in my life at just the right times to help me believe that my journey mattered and that I could rise above my past and build a future story. Now as I reach the half century mark, I have been blessed to develop and run an organization that exists to do the same to those who feel scared by their past and often feel unable to move forward and see a brighter future.
The Factory Ministries exist to empower others to strengthen their community.  Because we believe that everyone's journey matters, we are creating a system where teens and adults can overcome obstacles and get the resources and skills needed to rise above the hopelessness of poverty.  Through our community's collaborative, the Together Initiative Network, we have turned an old elementary school into a hub of hope.  Individuals and families in poverty can find help and hope through intakes, assessments, goal setting, and resource workshops to address poverty and to develop the physical, emotional, relational, spiritual, intellectual, and financial resources necessary to not just survive but thrive and give back.
When asked why I do what I do, I give the same simple answer – because everyone's journey matters!  Imagine a community where all non-profits, schools, businesses, churches, townships, and civic organizations unite to create a system of hope.  Imagine a community where we put aside differences and focus on where we can collaborate, because together we believe that everyone deserves a chance to succeed. Here, we do not have to imagine anymore.  Through The Factory Ministries and the Together Initiative Network, each one of us is doing just that right here in eastern Lancaster County.
Would you consider making a gift to support this mission?
As we continue to create a system to help teens and adults overcome poverty, we have become keenly aware of how great the needs are in our communities.  We continue to develop new programs to reach a greater number of people in greater ways. Would you consider making a financial contribution to help teenagers who often feel lost and alone find help and hope?  Would you consider supporting a single mom who is feeling overwhelmed with all the barriers she is facing to build a better future for her kids?  These teens, adults, and families are counting on you to help them overcome poverty and build a future story.
Join our team!      Become a Story Builder today!