28 Nov

Journey Together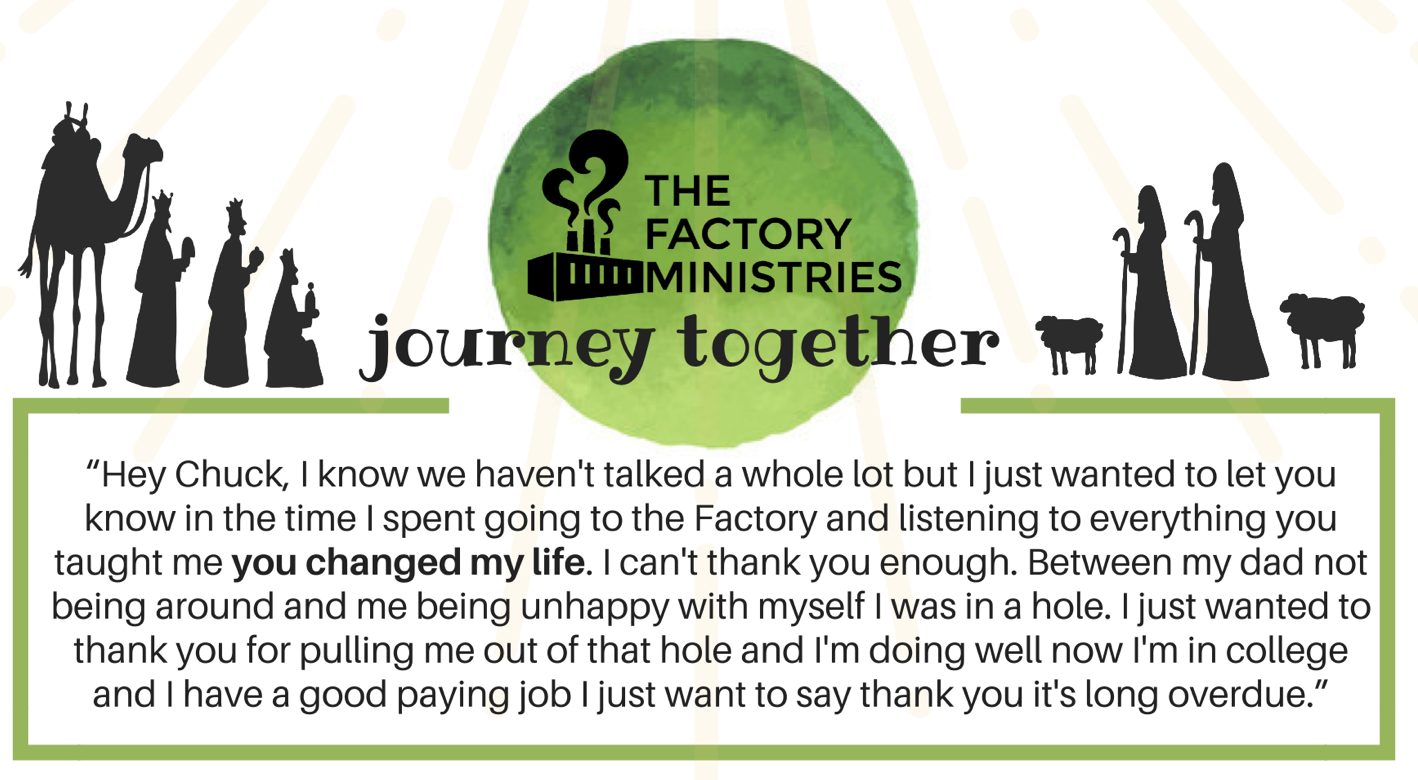 Messages like the one above really warm my heart!  This student regularly attended The Factory Youth Center during high school and wanted me to know what a difference it made in his life.
   This young man's story is one that can be told over and over again by teens and adults who connect with The Factory Ministries to find help and hope.  Throughout all the appointments, programs, and events are significant relationships interwoven into the fabric of our incredible journey together.  The whole reason we exist as an organization and why you give so much of your time and financial resources is because we all believe that everyone's journey matters.
   When I think of the journey together that we share, I am reminded of the journey of the wise man and shepherds to see Jesus so long ago.  Both the wealthy wise men and the lowly shepherds were drawn to Jesus.  Their lives were changed by the revelation that God himself had entered our world.  God's love for humanity and his desire to journey together with us was displayed in sending his Son to earth to offer us true life, love, and peace regardless of resources or status.
   I hope you enjoy the journey together you will have this season as you gather with loved ones and friends to celebrate the holidays and remember the legacy of loved ones we have all lost.  I want to thank you for the gift of hope that you have given to individuals like the student above.  Would you make a financial contribution during this season of help and hope to The Factory Ministries?  Your contribution will help us to continue to journey together in even greater ways with those who "find themselves in a hole" and need someone to help pull them "out of that hole".
   As we embark on 2018, we are extremely excited about what God has planned for our communities.  In our journey together, we will continue help individuals and families move from instability to stability, from insufficiency to self-sufficiency, from trying to survive to thriving and giving back. Thanks in advance for your end-of-year donation to continue the vision of our incredible work centered in the idea that everyone's journey matters to God and to us!
Because Everyone's Journey Matters,
Chuck Holt
President/CEO of The Factory Ministries